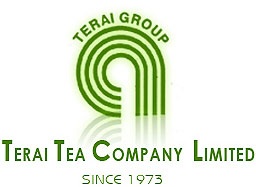 Our Units ::
THE TERAI GROUP has also the following Companies in its fold which are engaged in tea plantation and other diversified activities.
SAYEDABAD TEA COMPANY LTD : This company owns Sayedabad Tea Estate having 1000 acres of tea plantation and produces 10 lacs kgs. of tea annually. The company has been recently brought into the fold of the group in the year 2004.


ABHIJIT TEA COMPANY PVT LTD: This company is owning Raja Tea Estate in the heart of Mal Bazar town in the District of Jalpaiguri having an area of 1300 acres and produces 20 lacs kgs. of made tea annually out of its own tea garden leaf and brought tea leaves. This company owns a Roller Flour Mill having capacity of 30000 metric tons per annum of wheat products. The flour mill is at present closed. It is also having warehouses at Siliguri and Kolkata. The company has various real estate projects in the town of Siliguri and Falakata.


NEW DARJEELING UNION TEA COMPANY LIMITED: This company is owner of Kiranchandra Tea Estate near to Bagogra Airport,in the District of Darjeeling having an area of 647 acres and produces 10 lacs kgs. of made tea annually. The company has set up a new Green Tea factory in the month of September, 2017 with an objective to produce high quality of green tea.


EAST INDIAN PRODUCE LIMITED: This company owns one tea garden namely Lohagarh Tea Estate. Lohagarh Tea Estate is situated in the foothills of Himalayan range of mountains having plantation areas of 550 acres and produces about 5.5 lacs kgs. of tea. This company was acquired by this group in the year 1983.


THE KHARIBARI TEA CO.LTD.: This company has been taken over by the Group in the year 2001. The Company owns tea garden namely Sachindra Chandra Tea Estate with production capacity of 5 lacs kgs.of made tea per annum.


JALDACCA TEA PLANTATIONS PVT. LTD.: This company is the owner of Jaldacca Altadanga Tea Estate having 1001 acres of tea plantations and produces 10 lacs kgs. of tea. These gardens were acquired by the group in the year 1985.


KANCHAAN VIEW TEA ESTATE : This tea estate is located in the heart of the Queen of hills "Darjeeling" close to Lebong Race Course, one of the prime location in Darjeeling. The total area of the tea estate under plantation is 87.53 hectre and produces around 50,000 kgs. of Darjeeling Premium Tea.


TERAI DOOARS TEA COMPANY PVT. LTD : The company has been floated by the group to set up a modern and 'State of Art' bought leaf tea factory to manufacture Orthodox and Green Teas of premium quality for sale of the same in European market. The installed capacity at present is 10 lacs kgs. per annum.


TERAI OVERSEAS LIMITED : This company is engaged in Import of raw Jute from Bangladesh, and trading of various others merchandise such as Sugar, yellow peas etc.


TERAI FINANICAL SERVICES PVT. LTD: The company is engaged in investment and other financial activities.


TERAI ISPAT & TRADING LIMITED :  The company has been floated by the Group to set up a "state of art" steel plant in the state of Sikkim. At present the  company is engaged in trading of steel products.


TERAI INFRASTRUCTURE LTD. : This company was incorporated recently in the year 2005 with the main objective to deal in real estate business. The company has already identified different project in Metros and other cities. The dream project under the name of 'Amit Towers' and 'Amit Residency' are residential complex in the town of Siliguri are already complete. At present an another land at 168 Katha is being developed at Sevoke Road, Siliguri.